There is a castle on a cloud,
I like to go there in my sleep,
Aren't any floors for me to sweep,
Not in my castle on a cloud.

While I was in Utah visiting with my sister, we started reminiscing about a vacation to Massachusetts we took when I was 11 and she was 14. We toured this funny, unknown castle in Cape Ann. Today, she sent me an email, because she had found the place online. So, we now believe that it was called Hammond Castle.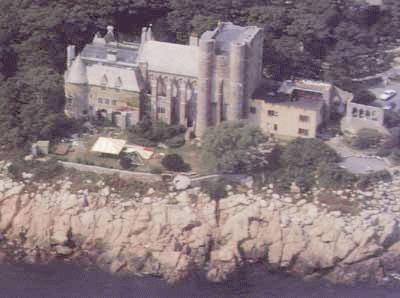 My sister remembers so much about the place, that it is a little scary. All I remember, was that the owner/builder was a nut job! But she remembers details: He saw his wife in the park and told her that he would build her a castle if she would marry him, so she divorced her husband and married him, and he kept his promise. The stones were sent over from Europe, some of them being gravestones. They had tons of cats but no kids. Oh, and he commissioned a HUGE nude statue of himself that is on their grounds. (Acutally, that I DID remember. Tee hee.)



So, this was my first castle I've ever toured. It apparently started a long love affair with castles, because I've been to so many now that I can't even count!


My latest was Craigdarroch Castle in Victoria, British Columbia. The original owner of this Castle was not nearly as loony as the other, but the kids turned out to be basket-cases. The amusing part about touring this castle is that all the information kept refering to the families conspicuous display of wealth. So, I don't know if Canadian historians are morally opposed to wealth, or just conspicuous displays of it! *shrugs*
This castle was also interesting from the fact that they aren't finished restoring it. I've never toured something that was in the middle of reconstruction. Also, over the twenty some-odd years that they've been restoring it, they've made alot of mistakes and are now trying to correct them. Apparently, there's a learning curve when it comes to restoration.

What castles or homes have you toured? Do you remember anything amusing?